Chris Evans has made a highly anticipated public appearance with his wife Alba Baptista since their secret wedding at the Captain America actor's Boston home. The pair was spotted at Lisbon airport.
The couple was spotted by one of their fans who also happened to be at the same airport.
According to India Today, the fan shared the details of their sighting along with the celebrity couple's picture with an Instagram page known for international gossip titled Deuxmoi. The publication revealed that the couple was en route from Lisbon to Boston.
Along with sharing pictures of the couple, the passenger onboard the same flight with them also penned, "DEUX! I know the girlies are gonna go crazy over this one, I'm currently on a flight from Lisbon to Boston, and Chris Evan's [sic], and Alba is in first class being super incognito."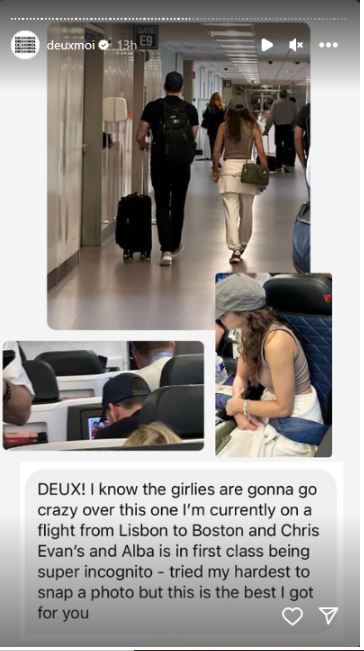 They added, "Tried my best to snap a photo, but this is the best I got." The pictures shared on Instagram Story of Deuxmoi saw Alba Baptista and Chris Evans walking with their luggage and another featured the couple seated on the plane.
Previously, Page Six reported that Chris tied the knot with the Portuguese actress in a tightly locked-down ceremony attended by the actor's close friends and family.